A barrel full of monkeys is popping up in Old Market Square… Don't miss out or you'll get caught red-handed!
Run, walk, ride, or roll through the Exchange where inflatables created by local artist Paul Robles will light up Old Market Square. The curved forms will lead you through a snake-like path and make you wonder, why are monkeys building pyramids in the Exchange? Why are their hands red? Are they ghosts of a pre-pandemic social scene?
See Hear Speak was conceived of during the pandemic and is intended to interrupt the quiet of a once thriving gathering place. It is an oddity calling for attention, conjuring a magnetic contradiction that highlights and denies the human experience of contact, folly, and closeness. The playful shapes are layered with monkeys and meaning to suggest team bonding exercises, sporty cheer(leaders), religious divination, and even fraternity hazing. Echoing society's current unease, the title invokes the proverb of the Three Wise Monkeys and how the threat of isolation and despair can lead to compulsive diversion.
The temporary inflatables, commissioned through Winnipeg's Public Art Program with support from the Winnipeg Foundation and presented by Winnipeg Arts Council, were installed September 25 – October 3 2021 in Old Market Square.
Tallman.Promo is proud to have partnered with the artist on this project. Thanks to the Winnipeg Arts Council for supporting the collaboration with the artist and to True North Sports and Entertainment for the loan of production supplies.
From the initial design to the 3D models, from the LED lighting to the blower locations, this project was a delight.
If you are looking to develop an inflatable art installation, we would be happy to discuss the various options with you. Reach out to one of our account managers to start the process.
The year was one of adaptation and change. There are still so many unknowns for 2021 however, change and adaptation will remain. Whatever lies ahead, we'll be here when you need us. Here is what you can expect from us in the new year.
To better deal with delivery times we are looking to add more machines to our roster, allowing us to insource more and speed up delivery times;
Increased inventory levels of core items to be able to absorb fluctuations in demand;
Move to online ordering and payment for those who want this;
A wider portfolio of products to cater to a variety of events
We are committed to serve you better! Thank you all for your patronage.
Santa Inflatable for Quadreal at Marche Central in Montreal, QC.
Merry Christmas and a very happy New Year,

On behalf of everybody at TallMan.Promo


Jeroen 'J' Oosterom
CEO TMP International ltd.
It is so good to write again about beautiful, smart and impactful events, rather than PPE, Masks and Plexiglass Barriers (though we still gets lots of orders for all these at www.covid19signs.info). It is always a pleasure to do projects in 'la belle province' Quebec in Canada, but it had been a while since our installers were travelling to do an inflatable set up. Check out this custom printed pumpkin inflatable replica, designed, manufactured and installed in 2 weeks time at Quadreal's Marche Central location in Montreal by the team at TallMan.Promo.
Shopping center Marche Central wanted to bring some extra attention and holiday cheer to their outdoor retail enviroment.
Each year, the Centre welcomes some 10 million visitors! With an area of 1 million square feet and 60 tenants, Marché Central is one of the top power centres in Canada, situated near the intersection of Highways 15 and 40 in Montreal.
Marche Central is managed by Quadreal. Headquartered in Vancouver, Canada, QuadReal Property Group is a global real estate investment, operating and development company. QuadReal manages the real estate and mortgage programs of British Columbia Investment Management Corporation (BCI), one of Canada's largest asset managers with a $153.4 billion portfolio.

The entire inflatable is sublimation printed to match the Marche Central color scheme. Check out this massive pumpkin before it gets replaced by the next installation around the beginning of November. Despite the rush nature of the project, this was an fun and amazing product to work on. Thanks to the amazing client and their wonderful team in Montreal. We can't wait to see what they will come up with next!
Inspired to do your own custom inflatable campaign? Give an account manager at TallMan.Promo a call today!
Special Olympics Texasrecently held their Law Enforcement Torch Runs.
The Tallman.promo team were happy to work with Special Olympics Texas to produce 10 custom printed inflatable arches that were used in the cities of Pflugerville, Lubbock, Webster, Hurst and San Antonio.
The torch run is the largest public awareness and grassroots fundraising endeavour for the Special Olympics organization as a whole.
Law enforcement officers across the globe carry the 'Flame of Hope' through the streets of their local community, raising awareness and building a spirt of teamwork along the way.
The LETR program first began in 1981in Wichita, Kansas by Police Chief Richard LaMunyon. It has raised more than $800 million.
Our TallMan.Promo arches act as a means of finding your way around an event, at entrance ways and they are perfect as start and finish markers. Their sheer size makes them easily recognizable and they act as a great way to deliver an important message or to recognize sponsors. They range from plain colours, to fully printed, to custom shapes and sizes. We at Tallman.promo have seen them used as start and finish markers, event entrance ways, main stage overhangs and much more.
Our TMP team has teamed up with businesses and organizations in the private and public sector to produce arches for events. We are proud partners in the Special Olympics torch run.
Inspired to do your own custom inflatable campaign? Give an account manager at TallMan.Promo a call today!
The Toronto Blue Jays' Winterfest celebration returned for a nother year and TallMan.Promo were delighted to again provide some custom eye-catching inflatables inside the Rogers Centre.
Current and former Blue Jays players and other sports personalities stopped in to mingle with fans, sign some autographs and pose for pictures on a fun baseball weekend in January.
The big draw was seeing some of the Blue Jays – outfitted in the return to baby blue jerseys – such as Bo Bichette and Vlad Guerrero Jr. Joining them were stars from the past, including Roberto Alomar Jr. and Lloyd Moseby.
Our contribution as an event marketing company - for a second straight year - were our inflatables. We provided a 20ft snowman decked out in Blue Jays colours. These continuous air models come with a built-in air blower to keep them afloat. We also provided 10ft (diameter) snowflakes, which are helium powered. These marketing products catch the eye but are also markers to help guests navigate their way around.
An indoor Winterfest celebration can highlight the various ways you can use custom inflatables, from decorative art pieces to land markers, to children's activities. All of our inflatables are digitally printed so there are no surprises when your product arrives.
Thanks to the Toronto Blue Jays for being a wonderful client and having the vision for this magnificent event. Inspired to do your own custom inflatable campaign? Give your account manager at TallMan.Promo a call today!
Canadian moving and storage company Dymon is a pioneer when it comes to their trade. If you are under the impression that storage facilities are generally depressing, cold and inhospitable, I would challenge you to set foot in any of Dymon's facilities. There facilities are clean and warm, their store outshines most luxury hotel lobbies and their staff is focused on you, the customer.
TallMan.Promo is proud to have designed, produced and installed and installed giant rooftop Christmas inflatables for their main facilities in Ottawa and Toronto.Santa's sled is pulled by the Dymon trucks. The unit is over 25 ft high, uses 3 blowers to run and can be seen from the Queensway from both directions.
Founded in 1995, Dymon is a privately-owned company based out of Ottawa, Ontario. After a successful period in property management, commercial building development and high-end retirement residences, Dymon launched the Dymon Storage brand in 2006. Since the opening of our first storage facility in the summer of 2006, Dymon has focused relentlessly on its mission of pushing the envelope of the storage industry. Dymon Storage represents an entirely new paradigm, exceeding customers' expectations and changing the way they think about storage.
In addition to the Santa, various 20ft inflatable grinches popped up on their facilities as well. Taken from Dr. Seuss' beloved holiday classic. The Grinch tells the story of a cynical grump who goes on a mission to steal Christmas, only to have his heart changed by a young girl's generous holiday spirit.
Thanks to Dymon Storage for being a wonderful client and having the vision for this gigantic project. Inspired to do your own custom inflatable campaign? Give your account manager at TallMan.Promo a call today!
Photographs speak volumes. Not only do they capture a single moment in time, they help tell a story – who we are and what we stand for! In business, pictures and graphics are key to branding and imaging. Through colours and design, we aim to captivate. You can do that with banners, displays and window graphics. TallMan.Promo provides a customized product, where vision, expression and advertisement become an art form..
La Osa Jewelry & Vintage, located in downtown Stratford, ON, is a destination boutique where retro meets chic, thoughtfully curated by Pamela Coneybeare. She's chosen a professional photograph to use on her Roll-Up Banner for display at local artisan markets. Recently, La Osa was at Factory 163 for their "Start the Holidays Art Show & Sale".
The Flour Mill is COMING SOON to St. Marys, ON. Owner Tracey Pritchard is collaborating with talented, like-minded businesses to create a retail and hospitality destination. Tracey is also owner of Perfect Pastry and continuing her passion for feeding and educating people about good food and how to prepare it. TallMan.Promo created unique vinyl window decals for their Holiday Pop-Up.
The Farm Juice Co is currently building a new production kitchen within The Flour Mill. Alex O'Shea founded this company believing food is about community, health and sustainability. Tallman.Promo designs and prints window, wall and floor graphics. Our team created 3x5' hanging fabric prints for Farm Juice Co.. Alex used these photographs, highlighting the original architecture at The Flour Mill.
Our event marketing products - photographs and graphics -are the perfect compliment for your business.
Photo Credit: Abby Campbell, Alex O'Shea

Please contact one of our TallMan.Promo representatives for any additional questions about our products.
The Toronto Raptors run to an NBA championship captured the imagination of the country as they became the first team outside of the U.S. to win basketball's biggest prize.
It was a shining moment for sports in our country, and we were thrilled when asked to work on a project here at TMP that helped celebrate the Raptors world championship.
Our team created a 10ft metallic pvc sphere – complete with the instantly recognizable Raptors' claw logo, measuring in at 6ft on either side of the golden ball.
Our in-house printed vinyl was applied in the production facility of our headquarters in Stratford, Ontario by our marketing team for a Raptors event in the Fall of 2019.
The shiny, metallic look was a perfect compliment for the champion Raptors and a head turner and photo-op at the Raptors event.https://www.youtube.com/embed/UpT7VU2LXjg
We have worked on similar projects for clients over the years, of different size and scope and with different specifications from our business partners. We have created spheres that hang from the ceiling or are elevated with bases, with varying types of materials for indoors or outdoors. We thank MLSE for affording us the opportunity to work on this exciting project that by all accounts was a big hit.ABOUT METALLIC (MIRROR) SPHERESMade to your required size, these smooth mirror spheres create a "wow" element for any event or party space. The sheer size and impact of these spheres are guaranteed to get your guests talking. As we ship these units un-inflated, the shipping part of the cost is minimal. We do recommend to buy our pump to inflate them. Inflatable ball Seams: All inflatable mirror balls have seams to create the sphere. The seams are noticeable up close but will give the effect of a smooth finish at a distance. There are NO options to have a seamless product.
TallMan.Promo is proud to offer our inflatable mirror balls, this is a high-quality inflatable product sure to wow at any event. Most of our orders range in size from 24" up to 96" but we can produce up to 25' custom if required.
Suggested uses: Ceiling décor, Large scale props, Event Design, Oversized Christmas Ornaments, Upscale hotels, resorts, Rental Companies, Event Design, Convention Centers, Trade shows, Fashion Shows, Concert décor, Tent design, Mall décor, Dance floors, Night Clubs, Lighting Design
Descriptive notes: Our inflatable balls are 0.4mm. Double wall thickness for all balls
Please contact one of our TallMan.Promo representatives if you would like to add a logo to any inflatable mirror sphere.
We are all about teamwork at TallMan.Promo, so we were delighted to partner with the Canadian Elite Basketball League (CEBL) to help promote teams in the league's inaugural season in 2019.
With six teams across Canada, the CEBL aims to promote the second fastest growing sport in the World, while offering a chance for Canadian talent to pursue a pro career.
Before the opening tip-off of the first game, TallMan.Promo worked with team representatives in Hamilton and Guelph. We have provided cheering sticks and custom designed flags.
Our team was thrilled to play a role in ensuring that fans get the full, pro basketball experience while cheering on their teams.
We wish the CEBL and its teams the best of success as they continue to grow their league, their brand and their fanbase.
Candice and Alison Events Group is celebrating a milestone 10 years and TallMan.Promo was happy to collaborate with the award-winning designers to create an epic event at Malaparte in the heart of Toronto's Entertainment District! We created giant 16ft high 3D custom inflatables of the namesakes Candice Chan and Alison Slight. The inflatables were perfect for photo opportunities and contributed to the larger-than-life event itself.
All images by @georgepimentel1
Inflatables for Premium Events
TallMan.Promo has proudly produced our custom inflatables for a variety of purposes for many satisfied clients. Our large custom inflatables are used to catch the eye, to relay a message, and to get your business, organization, product or special event the attention it deserves! We can match your ideas with our expertise to find the right inflatable for you. For Candice & Alison the inflatable meant their 10 year anniversary party had a go-to spot for selfies, videos and tons of exposure through the hashtag #AC10YR.

Types of Event Inflatable Sculptures
As the amount of outdoor art festivals and landart projects increase , we get more requests from event marketing management clients to execute their vision for their next event.
Our products range from small point-of-sale inflatable, to inflatable tents to giant rooftop inflatables that are more than 100 ft. tall. We have extensive experience working with clients from design phase to completion to find the exact size and shape of finished products to bring your message home. We have produced hot air balloon style inflatables, animals, musical-themed inflatables, archways, custom-made tents – nearly every size and shape is possible or we can suggest options. Please see this FAQ section for more technical info on the various types of art inflatables.
Shattered Glass
Hundreds of people gathered to celebrate Candice and Alison where they launched their first signature product - "Shattered Glass". It is a dry brut-style sparkling wine perfect for an occasion. Destined to create a statement, the eye-catching bottle is dressed with an ombre fringe that swings effortlessly as the wine is poured. The provocative name Shattered Glass is inspired by the precise moment the first glass drops and shatters behind the doors of an exclusive event.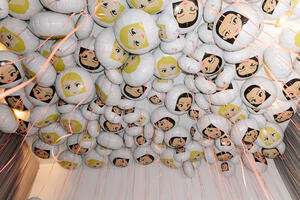 Using hundreds of custom printed mylar balloons and vinyl floor and wall decals throughout the event, they kept the party branded and on-point.
A big thanks to Candice and Alison for this great impactful project and the wonderful opportunity to work for you. Congratulations!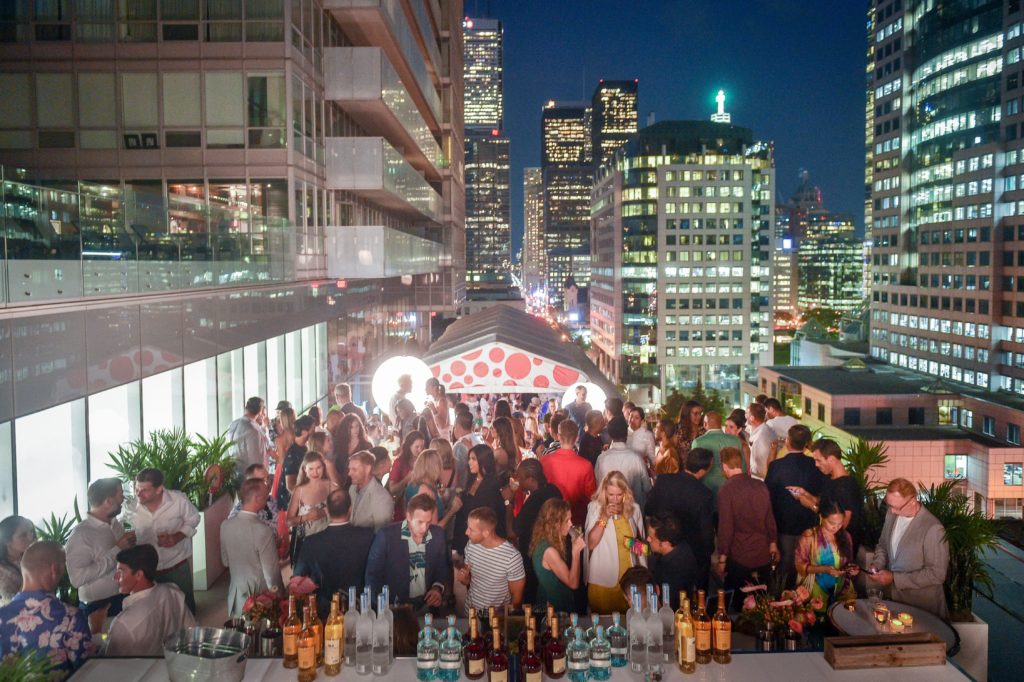 For more information on our inflatable event projects and options, feel free to check our site or contact one of our representatives.