The year was one of adaptation and change. There are still so many unknowns for 2021 however, change and adaptation will remain. Whatever lies ahead, we'll be here when you need us. Here is what you can expect from us in the new year.
To better deal with delivery times we are looking to add more machines to our roster, allowing us to insource more and speed up delivery times;
Increased inventory levels of core items to be able to absorb fluctuations in demand;
Move to online ordering and payment for those who want this;
A wider portfolio of products to cater to a variety of events
We are committed to serve you better! Thank you all for your patronage.
Santa Inflatable for Quadreal at Marche Central in Montreal, QC.
Merry Christmas and a very happy New Year,

On behalf of everybody at TallMan.Promo


Jeroen 'J' Oosterom
CEO TMP International ltd.
It is so good to write again about beautiful, smart and impactful events, rather than PPE, Masks and Plexiglass Barriers (though we still gets lots of orders for all these at www.covid19signs.info). It is always a pleasure to do projects in 'la belle province' Quebec in Canada, but it had been a while since our installers were travelling to do an inflatable set up. Check out this custom printed pumpkin inflatable replica, designed, manufactured and installed in 2 weeks time at Quadreal's Marche Central location in Montreal by the team at TallMan.Promo.
Shopping center Marche Central wanted to bring some extra attention and holiday cheer to their outdoor retail enviroment.
Each year, the Centre welcomes some 10 million visitors! With an area of 1 million square feet and 60 tenants, Marché Central is one of the top power centres in Canada, situated near the intersection of Highways 15 and 40 in Montreal.
Marche Central is managed by Quadreal. Headquartered in Vancouver, Canada, QuadReal Property Group is a global real estate investment, operating and development company. QuadReal manages the real estate and mortgage programs of British Columbia Investment Management Corporation (BCI), one of Canada's largest asset managers with a $153.4 billion portfolio.

The entire inflatable is sublimation printed to match the Marche Central color scheme. Check out this massive pumpkin before it gets replaced by the next installation around the beginning of November. Despite the rush nature of the project, this was an fun and amazing product to work on. Thanks to the amazing client and their wonderful team in Montreal. We can't wait to see what they will come up with next!
Inspired to do your own custom inflatable campaign? Give an account manager at TallMan.Promo a call today!
Special Olympics Texasrecently held their Law Enforcement Torch Runs.
The Tallman.promo team were happy to work with Special Olympics Texas to produce 10 custom printed inflatable arches that were used in the cities of Pflugerville, Lubbock, Webster, Hurst and San Antonio.
The torch run is the largest public awareness and grassroots fundraising endeavour for the Special Olympics organization as a whole.
Law enforcement officers across the globe carry the 'Flame of Hope' through the streets of their local community, raising awareness and building a spirt of teamwork along the way.
The LETR program first began in 1981in Wichita, Kansas by Police Chief Richard LaMunyon. It has raised more than $800 million.
Our TallMan.Promo arches act as a means of finding your way around an event, at entrance ways and they are perfect as start and finish markers. Their sheer size makes them easily recognizable and they act as a great way to deliver an important message or to recognize sponsors. They range from plain colours, to fully printed, to custom shapes and sizes. We at Tallman.promo have seen them used as start and finish markers, event entrance ways, main stage overhangs and much more.
Our TMP team has teamed up with businesses and organizations in the private and public sector to produce arches for events. We are proud partners in the Special Olympics torch run.
Inspired to do your own custom inflatable campaign? Give an account manager at TallMan.Promo a call today!
The Toronto Blue Jays' Winterfest celebration returned for a nother year and TallMan.Promo were delighted to again provide some custom eye-catching inflatables inside the Rogers Centre.
Current and former Blue Jays players and other sports personalities stopped in to mingle with fans, sign some autographs and pose for pictures on a fun baseball weekend in January.
The big draw was seeing some of the Blue Jays – outfitted in the return to baby blue jerseys – such as Bo Bichette and Vlad Guerrero Jr. Joining them were stars from the past, including Roberto Alomar Jr. and Lloyd Moseby.
Our contribution as an event marketing company - for a second straight year - were our inflatables. We provided a 20ft snowman decked out in Blue Jays colours. These continuous air models come with a built-in air blower to keep them afloat. We also provided 10ft (diameter) snowflakes, which are helium powered. These marketing products catch the eye but are also markers to help guests navigate their way around.
An indoor Winterfest celebration can highlight the various ways you can use custom inflatables, from decorative art pieces to land markers, to children's activities. All of our inflatables are digitally printed so there are no surprises when your product arrives.
Thanks to the Toronto Blue Jays for being a wonderful client and having the vision for this magnificent event. Inspired to do your own custom inflatable campaign? Give your account manager at TallMan.Promo a call today!
Canadian moving and storage company Dymon is a pioneer when it comes to their trade. If you are under the impression that storage facilities are generally depressing, cold and inhospitable, I would challenge you to set foot in any of Dymon's facilities. There facilities are clean and warm, their store outshines most luxury hotel lobbies and their staff is focused on you, the customer.
TallMan.Promo is proud to have designed, produced and installed and installed giant rooftop Christmas inflatables for their main facilities in Ottawa and Toronto.Santa's sled is pulled by the Dymon trucks. The unit is over 25 ft high, uses 3 blowers to run and can be seen from the Queensway from both directions.
Founded in 1995, Dymon is a privately-owned company based out of Ottawa, Ontario. After a successful period in property management, commercial building development and high-end retirement residences, Dymon launched the Dymon Storage brand in 2006. Since the opening of our first storage facility in the summer of 2006, Dymon has focused relentlessly on its mission of pushing the envelope of the storage industry. Dymon Storage represents an entirely new paradigm, exceeding customers' expectations and changing the way they think about storage.
In addition to the Santa, various 20ft inflatable grinches popped up on their facilities as well. Taken from Dr. Seuss' beloved holiday classic. The Grinch tells the story of a cynical grump who goes on a mission to steal Christmas, only to have his heart changed by a young girl's generous holiday spirit.
Thanks to Dymon Storage for being a wonderful client and having the vision for this gigantic project. Inspired to do your own custom inflatable campaign? Give your account manager at TallMan.Promo a call today!
TallMan.Promo has produced countless custom inflatables over the years. For the most part inflatable installation is relatively simple – a one-man job. This enormous replica jellyfish that we produced for The Canadian Museum of Nature in Ottawa - complete with LED lighting – provided a bit of a challenge.
Normally, inflatables are equipped with D-rings sewn into the reinforced fabric so they can easily be secured to the ground with straps and/or stakes. A blower is used to inflate it. In this case, the massive jellyfish inflatable had to be hoisted up and hauled across the ceiling. The installer – dangling by a safety harness - used huge ropes to suspend it in the colossal glass enclosure called the Queen's Lantern. As well, the inflatable has LED lights INSIDE it so those had to be connected and illuminated properly. A large task but well worth the time and expertise of the installer. It looks amazing!
This is a perfect example of how we can create a custom animal replica inflatable. We made it to resemble a species of jellyfish called Pelagia noctiluca , or a mauve stinger. The LED lights illuminating it help make it look spectacular at night!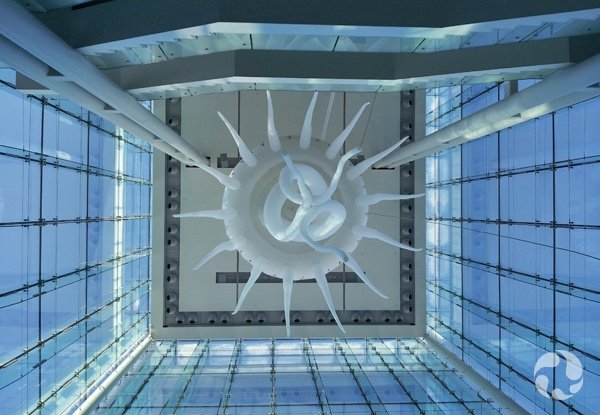 TallMan.Promo has products ranging from small point-of-sale inflatables to inflatable tents to giant rooftop inflatables more the 100ft. tall. We have extensive experience working with clients from design phase to completion to find the exact size and shape of finished products to bring your idea to life. We have produced hot air balloon style inflatables, animals, musical-themed inflatables, archways, custom-made tents – nearly every size and shape is possible or we can suggest options.
For more information on our custom inflatables and options, feel free to check out our site TallMan.Promo or contact one of our representatives.
TallMan.Promo had the pleasure of producing an awe-inspiring snow wolf for the Alberta Ballet, as part of Nuit Blanche 2018 Edmonton. Nuit Blanche Edmonton organizers called the event a 'labour of love and commitment'. The wolf was created in collaboration with artist Cameron Farn. His artistic vision is 'fueled by his fascination for discovery and limitless possibilities of imaginative play.'

'Alberta Ballet's Snow Wolves illuminate our evening passage towards the dawn by providing a space of respite and calm,' said the artist. 'Their heavenly (divine?) presence reached out with gentle rays of light and welcomes the weary to rest.'
Nuit Blanche Edmonton
The event was about building a better city, situating contemporary art practices by visionary designers, artists, architects and creatives and connecting the works with urban spaces while mixing in the passion and enthusiasm of Edmontonians.
Cameron is the creative director and lead designer for a specialty fabricator. The Calgary native's role as a consulting artist and technical designer has afforded him the opportunity and experience to develop a unique form language.
The snow wolf was a popular part of the Nuit Blanche in the prairie province and the second artistic inflatable that TallMan.Promo produced during the Fall. See our previous post on the work we did for Toronto-based artist birdO for a 40-foot inflatable based on Kirtland's Warbler, a small songbird that rose above a garden podium at 150 York/181 University Ave., during Toronto's Nuit Blanche.
What are Cold Air Inflatables?
Cold-Air (or Continuous Air) inflatables are made from breathable fabrics and require a constant supply of air provided by an air blower. Tallman.Promo provides both battery and outlet powered air blowers. When switched on this air-blower will fill the inflatable with air and keep it inflated. When switched off it will stop blowing air which will automatically deflate the billboard. These units will keep going even with small leaks. Most of the large inflatables we sell are cold-air inflatables.
TallMan.Promo has proudly produced our custom inflatables for a variety of purposes for many satisfied clients. Our balloons are used to catch the eye, to relay a message, and to get your business, organization, product or special event the attention it deserves! We can match your ideas with our expertise to find the right inflatable for you.
Contact
For more information on our inflatable art projects and options, feel free to check our site or contact one of our representatives.